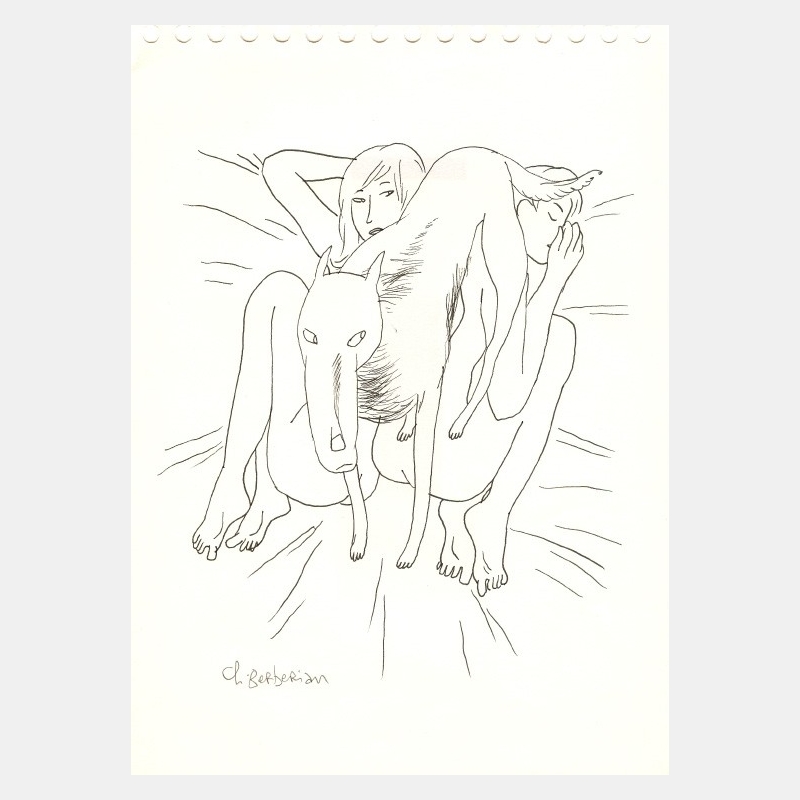  
charles berberian / 6
original drawing from a sketchbook done
for the impossible zine project
ink on paper, 2009/2010
signed in front
size : 29,5 x 21 cm 
Description
Philippe Dupuy and Charles Berberian formed together with the journalist / musician Joseph Ghosn,
the Impossible collective to carry on their graphic and multimedia experimentations. 
They have published with a little help of the Arts Factory gallery the Impossible newspaper
and produced around this project various exhibitions and performances.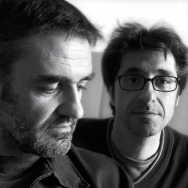 Philippe Dupuy and Charles Berberian met in 1983 after producing a few comic book pages separately. Their signatures then became indivisible as much for drawing as scenario writing. In 1984, they joined the magazine Fluide Glacial in which they published "Le Journal d'Henriette". Their first album, "Petit Peintre", was released in 1985 only followed by "Monsieur Jean" in 1990, the latter being the series that introduced them to a wider audience. The fourth volume obtained the Best Album Award at the Angoulême Festival in 2000.
In 1994, L'Association published "Le Journal d'un Album", one of their major works, an autobiographical graphic novel in which their respective contributions appear clearly distinct. With "Boboland" (Fluide Glacial Publishings, 2008), they drew a scathing portrait of our times, torn between cynical materialism and impassioned idealism. During this time Dupuy & Berberian brought back fascinating notebooks from their trips to New York, Barcelona, Tangiers, Lisbon, Istanbul. Those were printed on a regular basis by Cornelius publishings.
For many years, they have been following a successful career as illustrators in the press as well as in advertisement. In parallel to the conception of their books, Philippe Dupuy and Charles Berberian are often experimenting new ways to develop their universe : "L'Echappée" (a multimedia installation produced for the Art and Culture Center La Ferme du Buisson in 2009), illustrated concerts with Rodolphe Burger (Fondation Cartier, Festival d'Avignon …).
They also punctually realize books seperately. Thus, Philippe Dupuy published "Hanté" (Cornélius, 2005), "Une élection américaine" (in collaboration with Loo Hui Phang, Futuropolis, 2006). On his side, Charles Berberian brought out "Cycloman" (drawn by Gregory Mardon, Cornelius, 2002), "Playlist" (Naïve, 2005) and "Sacha" (Cornelius, 2009). In 2008, they obtained the Grand Prize from the Angoulême Comics Festival. In 2009 they formed the "Impossible" collective, together with the journalist / musician Joseph Ghosn to carry on their graphic researchs with the publication of the eponymous newspaper.
photo credit : charles berberian 
+ / -