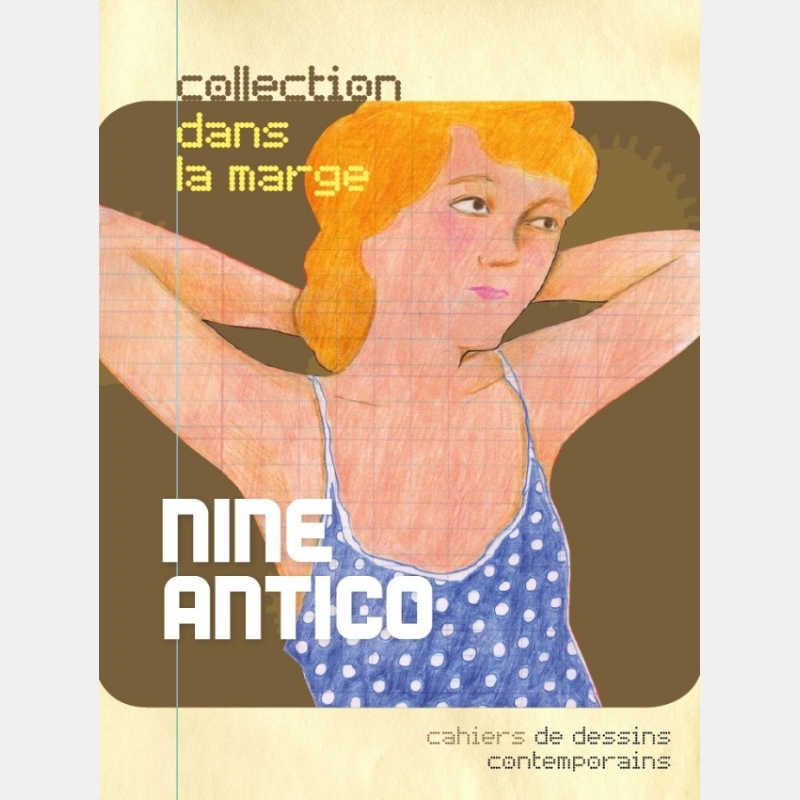  
dans la marge n°8
"mini vague"
collection dans la marge / cahier n°8
size : 22 x 17 cm
softcover, stapled
36 color pages
limited edition : 1000 copies
arts factory [ éditions ] - 2008
Description
The Dans la marge project - published by the Arts Factory gallery - is a collection of school notebooks customized by contemporary artists featuring : Daniel Johnston, Isabelle Boinot, Julien Langendorff,
Jochen Gerner, Tom de Pékin, Natali, Moolinex, Jim Avignon, Nine Antico, Hervé di Rosa, 
Blexbolex and Sophie Dutertre.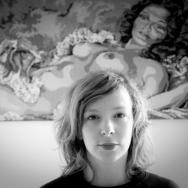 Nine Antico, who was born in the Paris suburb of Auberville in 1981, works as an illustrator and comics artist. She did not gain access to comics until later thanks to the books of Daniel Clowes and Ludovic Debeurme. She completed film courses and unsuccessfully applied to study art when she was 21 years old. She began her career as an illustrator with her own fanzine "Rock this Way" in which she also lived out her passion for rock music.
Nine Antico brings a breath of fresh air to the French comics scene with her mixture of witty dialogue, serious content and references to pop culture. Her books are often included in the category "bande dessinée girly" : witty comics about quick-witted young women, created by an equally young generation of women artists. But this only partially describes the work of this artist. Nine Antico's stories are also about sexuality or friendship, but they are not as clichéd or superficial as the categorization implies.
"Imagine we were fat", says one of the protagonists of Antico's "Girls Don't Cry" (ed. Glénat, 2010) . "I think I would have a problem with that", her friend responds. "We would be forced to be likable. Or funny…". Sad truths always hide behind Antico's witty and humorous dialogue.
Nine Antico's images have a retro-oriented style while at the same time her line has a timeless quality that focuses more on the text than on the drawings. Characters are not distinguished by their looks but by their statements. This makes Nine Antico a classic story-teller who also enjoys providing her stories with autobiographical features. Her first book "Le Goût du Paradis" (ed. egocommex, 2008) tells the story of her adolescence in a Paris suburb and is an autobiography blended with fictional elements. "Coney Island Baby" (l'association, 2011) on the other hand is a profoundly researched biography of two of the most famous erotic icons of the 1950s and 1970s: Betty Page and Linda Lovelace.
The fact that Nine Antico possesses a mature drawing style, but does not want to concentrate on details is particularly noticeable in "Coney Island Baby". Black and white are balanced in her compositions. The characters' facial expressions are often only hinted at and leave room for interpretation: "I do not like it when everything is explained when one is led through a book or a movie. When I draw eyes and a nose, I like the idea that the viewer has to read the character's facial expression, that everyone can have their own opinion and that interpretation is unrestricted."

photo credit  : renaud monfourny
english text courtesy fumetto festival
+ / -