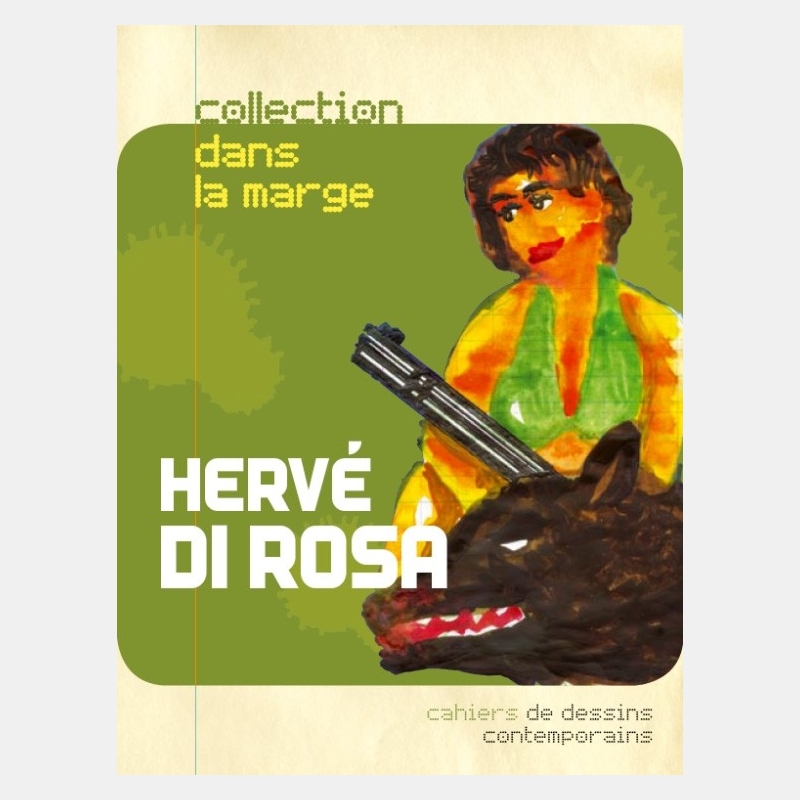  
dans la marge n°10
"the solo group show"
collection dans la marge / cahier n°10
size : 22 x 17 cm
softcover, stapled
36 color pages
limited edition : 1000 copies
arts factory [ éditions ] - 2008
Description
The Dans la marge project - published by the Arts Factory gallery - is a collection of school notebooks customized by contemporary artists featuring : Daniel Johnston, Isabelle Boinot, Julien Langendorff,
Jochen Gerner, Tom de Pékin, Natali, Moolinex, Jim Avignon, Nine Antico, Hervé di Rosa, 
Blexbolex and Sophie Dutertre.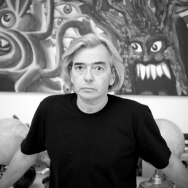 Hervé Di Rosa was born in Sète (South of France) in 1959. In 1978, he left his native city for Paris where he settled down with his friend, the painter Robert Combas, with whom he already instigated BATO, a kind of handmade fanzine (4 issues, each released in 100 prints). Di Rosa then enter the National School of Decorative Arts and produced his first paintings. In June 1981, the art critic Bernard Lamarche-Vadel displayed in his apartment a set of non-conventional and highly colorful works by young artists. Rémi Blanchard, François Boisrond, Robert Combas and Hervé Di Rosa found themselves gathered up for the first time : so was born the Figuration Libre movement.
If Hervé Di Rosa is actually one of its founders, he'd rather remind us today that he takes his roots from the punk scene above all, more than this 80's emblematic phrase. A movement that is actually not one, as the primary actors have never written any manifesto or claimed anything about it. Impressed by the publications of the Bazooka collective he had discovered while he was studying, his objective became to draw comic books and to see his work printed in magazines. While he thought he was drawing cartoon characters, he actually swallowed all its surrounding iconography - from the most popular to the most sophisticated - to create amazing paintings. Testifying for that period, the « Di Rosa Magazines » series (published from 1985 to 1986) would have a great influence on major artists from the contemporary graphic scene : Pakito Bolino, the founder of the Dernier Cri, as much as Blanquet who shares with him a sprawling world in constant mutation.
As soon as 1993, Hervé Di Rosa undertook a "neverendind world tour" in order to enrich his work with artistic practices from other cultures. From then on, he theorized his own artistic practice through the notion of Modest Art and founded the MIAM (International Museum of Modest Art) in Sète (South of France) in 2000. His work is now exhibited all over the world in the most prestigious galleries and institutions, among which, the Miami Bass Museum, who produced for him an important one man show in 2006.
photo credit : renaud monfourny
+ / -