pierre la police
16 References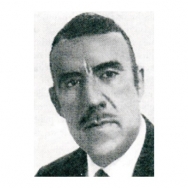 Coming from the underground graphic scene, Pierre La Police published his first drawings in the press at the beginning of the 90s. Beside his illustrations, his first comic books were published by Jean-Pierre Faur Editions : Les Practiciens de l'Infernal, Les Mousquetaires de la résurrection, along with the iconic photo-story La Balançoire de Plasma co-written with Jean Lecointre. Quickly attracted by animated pictures, he produced in 2001 the series Mini Pim Poum for the French TV Channel Canal +, before revisiting a few fundamental principles of religious education in La parole de vie.
For a few years now, he has essentially devoted himself to projects of exhibitions presented in contemporary art galleries (Art Concept, Arts Factory, Agnès b., Kamel Mennour...) where his work – incomparable ode to junk-culture – has naturally found its place. However in 2011 he is back again on comics, giving a sequel to the adventures of Les Practiciens de l'Infernal (a.k.a. the Challengers of the Mephitic) first on a specific application dedicated to smartphones, then with a paper version released in 2012 by Cornélius publishings.
photo credits : d.r.
+ / -