 
the incredible femdom art of namio harukawa
artist monogragh
size : 15 x 21,5 cm
square back binding, softcover
320 color pages / signed copy by the artist
japanese import
published by éditions treville - 2019
Description
All the copies sold at the gallery and on our webstore are signed by the artist.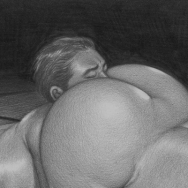 Born 1947 in Osaka, Japan. Harukawa's distinctive penname combines the name of film actress Harukawa Masumi with an anagram of Naomi, the sadistic heroine in Tanizaki Jun'ichiro's novel "Chijin no ai / A Fool's Love". While in high school, Harukawa began contributing work to the readers' column of "Kitan Club", postwar Japan's leading pulp magazine. Since then, Harukawa's drawings of male masochism have portrayed noble, voluptuously beautiful women and the men who would serve them.
Harukawa is now recognized as the preeminent Japanese illustrator specializing in the depiction of women's ass and face sitting situations. In addition to his drawings on paper, Harukawa has also created cover artwork for numerous SM video productions and has served as a consulting editor for several other projects derived from his work, including his books published by French activists "United Dead Artists" or Pot / Taco Ché in Japan.
english bio courtesy taco ché
photo credit : namio harukawa 
+ / -